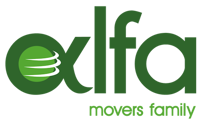 About ALFA Movers Family
ALFA Movers Family has been built on its family reputation. As an integrated part of the ALFA Logistics Family Headquartered in Europe, the ALFA Movers Family was created to follow a market need for service excellence and dedicated quality in the relocation business world. Where competition is intense but basic knowledge lacks at its foundation.
As a very specialized line of business, we promote a more personalized assistance and follow through during the whole process. Adapting to a new place can be a big challenge, so ALFA Movers' goal is to gather the most reliable, exclusive and professional platform of companies, with the knowledge and experience to help on the next challenge, which is to relocate your life's history in a box.
Website
Email
Regions of operation
Africa, Americas, Asia/Oceania, Europe, Middle East
Partner since
2020