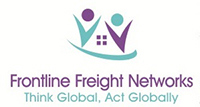 About Frontline Freight Network
Frontline Freight Network (FFN) is a dynamic, fast-growing family of independent NVOCCs, freight forwarders and logistic service providers. FFN provides a global interactive platform and an international alliance that allows its members to build multi-lateral trust to expand their operational reach.
Together, FFN's members can offer a personal service with global capabilities and the competitive pricing of a multi-national organization. Members synergize their efforts, expertise and experience to offer enhanced supply chain management solutions, focusing on the needs and requirements of individual customers.
FFN is a world-wide network of friendship that believes in unity and strives for success for all its network members.
Website
Email
Regions of operation
Africa, Americas, Asia/Oceania, Europe, Middle East
Partner since
2013