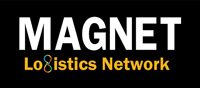 About Magnet Logistics Network
Magnet Logistics Network (MLN) is a neutral, tech-forward global freight forwarding network and one-stop shop for third party logistics services.
MLN's mission is to build multilateral trust among the group and to generate strong relationships within the alliance by offering a new networking model and partnership experiences. One method to achieve this is the establishment of the Zero-Competition Policy, which guarantees member exclusivity per country. MLN also offers members a great combination of exclusivity, insurances, technology, marketing, conferences and loyalty programmes.
MLN works to ensure only quality members are welcomed into the network and guarantees the qualifications of agents based on the strict requirements of a selection panel with over 30 years' industry experience. Each year, MLN members are also invited to attend the annual Magnet Meeting, which allows forwarders to build long-lasting partnerships and friendships hundreds of professionals from across the world. Check the full range of benefits at https://www.m-ln.com/benefits.php or contact the Magnet team at info@m-ln.com for more information.
Website
Email
Regions of operation
Africa, Americas, Asia/Oceania, Europe, Middle East
Partner since
2019