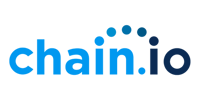 Areas of expertise
Platinum Integration

CargoWise Certified Practitioners
1 Certified Professional with the highest level of accreditation

About Chain.io
Chain.io is a cloud-based integration platform that connects shippers, logistic service providers and software partners across the global supply chain via data interoperability. Our mission is to be the network on which innovative businesses build the world's most connected global supply chains. We've baked deep supply chain expertise into our network.
More than just transforming data, we transform businesses by aligning systems with industry best practices. At the heart of our network is a canonical data model that lets companies work together even when they use software built in different decades.
Our platform enables you to integrate your CargoWise instance with your existing supply chain ecosystem or other leading supply chain software providers using our pre-built adaptors, so integration projects take less time and internal resources.
What - We seamlessly integrate any supply chain software and data to our ecosystem of shippers and logistic service providers
Why - So that business leaders can focus on innovation and customer satisfaction instead of the distractions of complex enterprise software integrations
How - We leverage our canonical data model and best-practice based process library to connect companies regardless of technology constraints
Website
Email
Languages supported
English
Regions of operation
Americas, Asia/Oceania, Europe
Partner since
2023
Office locations
Phildelphia, USA: 1 (267) 428-2504