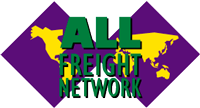 About All Freight Network
All Freight is a network of independent, qualified and registered forwarding and logistics companies focused on Asia and Europe. They are committed to providing their members with the support and unparalleled options in order to successfully facilitate their business operation.
The network is managed on a neutral basis for every member, ensuring a fair, professional and trusted business environment for members.
Website
Email
Regions of operation
Africa, Americas, Asia/Oceania, Europe, Middle East
Partner since
2019