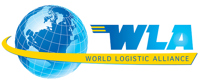 About World Logistic Alliance (WLA)
WLA was established in 2009 with a vision to build a strong community of logistics professionals by connecting and combining members strengths from across the globe.
WLA prides itself on developing and maintaining relationships between members through regular networking activities, value added products & services and consultancy. Members are carefully selected through their excellent reputation in the industry to ensure WLA continuously builds on developing one of the safest networks in the world.
Website
Email
Regions of operation
Africa, Americas, Asia/Oceania, Europe, Middle East
Partner since
2020