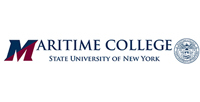 About SUNY Maritime College
State University of New York (SUNY) Maritime College educates dynamic leaders for the global marine transportation industry, the business of shipping, engineering, energy, facilities management, finance, the armed forces and public service.
Students from around the world choose SUNY Maritime for its long-established reputation of producing skilled, knowledgeable graduates who emerge as leaders in the global business and shipping industry.
Across all of the college's programs and activities, the hallmark of a SUNY Maritime education is learning by doing. This distinctive, hands-on approach attracts students who roll up their sleeves to prepare for personal and professional success through their studies, extracurriculars and job preparation.
Website
Email
Regions of operation
Americas
Partner since
2014
Office locations
United States