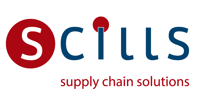 CargoWise Certified Practitioners
3 Certified Professionals with the highest level of accreditation

About SCILLS GmbH
SCILLS offers Tailormade Supply Chain Solutions for company success!
At SCILLS GmbH, we stand for proven global implementations in:
Supply Chain & Logistics
Customs Solutions
Integration
ISO 9001 certification
Lean Management
With over 30 years of experience as a service provider in the logistics industry, paired with CargoWise and extensive IT knowledge, we can assist with operational users' needs. Our team of C-Level consultants in B.A. finance (Customs), business law, business psychology, and IT experts will make a lasting contribution to your company's success with our tailormade concepts.
"From practice to practice" is the motto that SCILLSs customers appreciate.
Website
Email
Languages supported
English, German, French
Regions of operation
Europe
Partner since
2018
Office locations
Berlin, Germany: +49 (0) 30 2096 3956