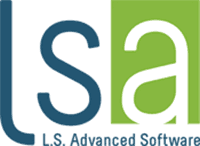 Areas of expertise
Platinum Accounting
Platinum Forwarding
Certified Integration

CargoWise Certified Practitioners
2 Certified Professionals with the highest level of accreditation
2 Certified Operators

About L.S. Advanced Software
Founded in 1986 and working in the ICT market, LS Advanced Software reaches new strides thanks to the continuous renewal and development of its staff's technical and organizational skills.
Quality research and innovative solutions have enabled L.S. to work all over the country for the most important Italian companies and groups. The LS team are able to engineer complex projects from design to delivery, involving solutions of Backup, Archiving, DR/BC, Data centers, Document Management, Mobile Solution, Digital Transformation and Collaboration.
Additionally, LS have a team skilled in ERP (Enterprise Resource Planning) ensuring that projects are delivered to the highest degree success.
Website
Email
Languages supported
English, Italian
Regions of operation
Europe
Partner since
2017
Office locations
Italy: +39 010 570 1262