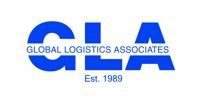 About Global Logistics Associates (GLA)
GLA was originally founded in the United States (State of Florida) in 1989 as a non-profit corporation of independent Freight Forwarders and Customs Brokers. In 2002, Global Logistics Associates Inc. and their NVOCC GlobeTransInternational were transferred to The Netherlands changing their legal form and structure into that of a Dutch Association. In 2007, the association was restructured through a Deed of Incorporation into what is now Global Logistics Associates (GLA), a non-profit Freight Forwarder and Customs Broker association.
Their objectives are to create and maintain a worldwide network of small and mid-sized international Freight Forwarders and Customs Brokers. GLA's goal is to give members the ability to compete against larger companies on a worldwide basis through their network of trusted partners. One of the ways they do this is offering members Port Exclusivity and in the surrounding area. 
They strive for integrity, expertise, dedication, cooperation, support and participation in service of their goals.
Website
Email
Regions of operation
Africa, Americas, Asia/Oceania, Europe, Middle East
Partner since
2021